Maruti Suzuki 2011 is a popular hatchback that has been voted as the safest super mini in the UK The new age Swift hatchback carries a 4 star NCAP rating.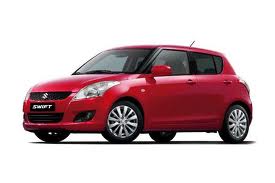 The engine options available in the 2011 Swift are a new 1.2l VVT engine petrol producing 93 bhp and diesel variant comes with 1.3 DDiS engine. New Suzuki Swift UK will have 4 different trim levels, the SZ2, SZ3, SZ4 and SZ5. Out of these four, first three will feature a 5 speed manual transmission whereas the SZ5 will feature an automatic transmission with seven airbags and electronic stability program (ESP) for high safety standards. New model is slightly longer, wider and taller in height offering better ride stability than the earlier model. Interior wise the new Swift gets a new style steering with improved central console and cabin offers better boot space for rear passengers. Maruti Swift gets a better quality plastic, new seat fabric and door trims making it look appealing and classy than the existing model.
It is more safer than the earlier model because the body of the car is made up of tougher yet lighter high tensile steel that makes sure the fool-proof safety of both passengers as well as car. Car also carries multiple air bags which includes driver airbags, passenger airbags and added curtain airbags. The bonnet, front bumper, wings and wipers of the car are designed to absorb impact energy to reduce pedestrian injury. 2011 Swift comes with a combination of redesigned accelerator brake clutch which helps to reduce leg injury in case of accident occurs in the front side of the car. The other major safety features of the car include ABS, EBD and brake assist, pre tensioned seat belts etc. In the global market, the new Swift 2011 carries a high 3 star pedestrian rating.

Related Links:
Mercedes Indianapolis
Automotive internet marketing